Main Theory (twinfish, Chxx Baby, Xluminex/Reddit, Itskyy, Pinksrs)
Edit
HyunJin takes HaSeul to the edge of the LOONAVERSE, where she must choose between truth and peace in order to reach her full potential as a member of 1/3. HaSeul chooses truth, killing the dove. This decision will have repercussions for 1/3 later on.
As theorized by Twinfish, the yellow truck that takes HaSeul to the arctic is HyunJin's color, which represents HyunJin bringing HaSeul to the tundra after HeeJin creates the color green. This means that HeeJin and HyunJin are working together to help HaSeul understand her place in the LOONAVERSE as the keeper of green.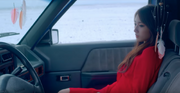 As we see when the truck stops, the door opens for HaSeul, who doesn't look excited to leave the warmth of the truck. This represents HyunJin opening the door for HaSeul and pushing her out into the cold, in order for her to discover herself and grow. And since HaSeul has arrived in an icy, cold dull place without color, its obvious that HeeJin's colors have yet to spread to this part of the LOONAVERSE and so therefore HaSeul is standing at the edge of the LOONAVERSE, which she must expand and fill with her color, green.
We can assume that the entire LOONAVERSE looked like this before HeeJin brought color, a bleak, dull, cold place. It also represents HaSeul's heart, which is an iced over and uncomfortable, lonely place. Which is why HaSeul is forced to be in the icy tundra, in order for her to find herself and melt the ice.
Chxx Baby's Analysis
Edit
Xluminex/Reddit's Analysis
Edit
Itskyy's Analysis
Edit
Cherry's Analysis
Edit
Pinksrs' Theory
Edit
References
Edit
Community content is available under
CC-BY-SA
unless otherwise noted.