Official Description
[
]
The world of Loona, compiling singles with each new member, expands with Haseul. A single by Haseul, the third member of rookie girlgroup Girls of the Month.
Following Heejin's colorful-vibe pop in "ViViD" and Hyunjin's longing of first love in "Around You", rookie girlgroup Loona has revealed the third member, Haseul.
Haseul was revealed in a short-blond tomboy concept as well as a long-haired girl concept across [teasers at] day and night, immediately capturing the attention of fans who await Loona. Haseul, who has a charm that both boyish and girlish traits coexist in her, has maximized that in music and visuals through her first single, "Let Me In". [Just a note that this makes more sense given the Korean title which is "Boy, Girl".]
Haseul's "Let Me In", by the production team OREO led by Iggy who completed GFriend's school-themed trilogy, is a blockbuster track that starts as a calm winter ballad before strings roar over like a blizzard.
Digipedi and Blockberry Creative filmed in faraway Iceland for the music video, and fulfilled the music's scale through the scenery of Iceland.
"The Carol", which stars Haseul alongside Heejin and Hyunjin, is Loona's first seasonal song. Loona's own Christmas theme, as clear as its title, was produced with MonoTree, and its music video was filmed in London and expresses a giddy feeling like that of an excited girl on Christmas.
Loona is a new-concept girlgroup that grows together with fans who recognized the girls early on with each new member, updating new content every day on social media and YouTube and meeting with fans through individual fansigns.
The girls' journey to complete the girlgroup Loona has now just raised its sail.[1]
Main Theory (twinfish, Chxx Baby, Xluminex/Reddit, Itskyy, Pinksrs)
[
]
Synopsis
[
]
HyunJin takes HaSeul to the edge of the LOONAVERSE, where she must choose between truth and peace in order to reach her full potential as a member of 1/3. HaSeul chooses truth, killing the dove. This decision will have repercussions for 1/3 later on.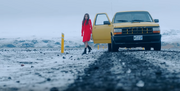 As theorized by Twinfish, the yellow truck that takes HaSeul to the arctic is HyunJin's color, which represents HyunJin bringing HaSeul to the tundra after HeeJin creates the color green. This means that HeeJin and HyunJin are working together to help HaSeul understand her place in the LOONAVERSE as the keeper of green.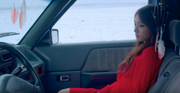 As we see when the truck stops, the door opens for HaSeul, who doesn't look excited to leave the warmth of the truck. This represents HyunJin opening the door for HaSeul and pushing her out into the cold, in order for her to discover herself and grow. And since HaSeul has arrived in an icy, cold dull place without color, its obvious that HeeJin's colors have yet to spread to this part of the LOONAVERSE and so therefore HaSeul is standing at the edge of the LOONAVERSE, which she must expand and fill with her color, green. We can assume that the entire LOONAVERSE looked like this before HeeJin brought color, a bleak, dull, cold place. It also represents HaSeul's heart, which is an iced over and uncomfortable, lonely place. Which is why HaSeul is forced to be in the icy tundra, in order for her to find herself and melt the ice.
The Little Prince Theory (from roseade on Amino)

[

]
Due to the M/V for 'Let Me In' being heavily similar to 'The Little Prince' there are many simularities. The narrator in 'The Little Prince' plane crashes, and he is left in the middle of nowhere, with no civilization. As we see, the same thing has happened to HaSeul, as she has a plane that has crashed as well. To get back to civilization, HaSeul decides to kill her alter ego (the boy) and join the LOONAVERSE (like the yyxy girls did by sinning). This would make sense, as it is implied that HaSeul has an alter ego by the teaser photos of her being released in different genders, and the song's Korean lyrics translating to 'Boy, Girl'. Thinking that it would be impossible to find her alter ego, she goes inside the plane and sees the boy throughout a crack in the plane. Later, she is seen to be holding a slingshot, where she aims it at the boy, and kills him. When HaSeul approaches him, he is now a still white bird, her animal.
Chxx Baby's Analysis
[
]
Xluminex/Reddit's Analysis
[
]
Itskyy's Analysis
[
]
Cherry's Analysis
[
]
Pinksrs' Theory
[
]
Trivia
[
]
Some people have speculated that the M/V is based off 'The Little Prince'
References
[
]
[

]