Synopsis
[
]
The song Heart Attack features the members Chuu and Yves in Eden where Yyxy lives. It has acute upbeat theme throughout the whole video. It focuses on Chuu's undying love for Yves as she admires her but cannot get Yves's attention.
Official Description
[
]
LOOΠΔ's each member with her own distinctive character encounters each other to build up the universe. The first member HeeJin started off by meeting HyunJin, which then led to introduction of HaSeul to make three. While the youngest member, YeoJin, and ViVi from Hong Kong join, LOOΠΔ 1/3 was complete. [Love&Live], an album full with emotions of first crush, gets reversed to create [Love&Evil], an album with pain of first break-up to wrap up the first chapter of LOOΠΔ 1/3's career.
LOOΠΔ creates another circle with LOOΠΔ / ODD EYE CIRCLE with girls who prefer to take charge in a relationship, KimLip, JinSoul, and Choerry. They mix and match through [Mix&Match] to the maximum level of [Max&Match], while LOOΠΔ developed the depth of their music, visuals, and storytelling to the next level.
We all wonder who the last member is going to be. The start of the new unit took off with Yves, and now the tenth member of LOOΠΔ, Chuu, reveals herself to bring a new wind into the universe of LOOΠΔ.
The new single lets the fans take a peek into what JiWoo, who has already been a popular trainee among fans, had to go through to become 'Chuu', and her desire to be loved by Yves, who also has said in her lyrics, "my heart that wants to be like you gets colored, filled with you."
The titled track "Heart Attack" does not interpret the feelings of being in love in a serious way, but with Chuu's own adorable emoticon-like ways. The music video has references to historical and fictional figures such as the artist Rene Magritte, Hans Christian Andersen's short story "The Little Match Girl", and John Appleby's novel "Aphrodite Means Death".
The supporting track "Girl's Talk" is a duet by Chuu and Yves, a rendition of a daily dialogue between two girls. Sweet but sometimes secretive, the precious chats between the girls get reinterpreted to become a song. G-High of Monotree, who has produced HeeJin's "ViViD" and LOOΠΔ / ODD EYE CIRCLE's "Uncover", crafts the track to perfection to prove the quality
When four girls who denied the garden of Eden gathers, the party begins.[2]
Apple
[
]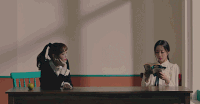 Throughout the video, Chuu is seen to be handing Yves a green apple but Yves does not accept it. We see this as a way Chuu is offering her love to Yves but she cannot accept it which goes with the Penguin, Chuu's official animal, and it's negative meaning.[citation needed] This happens multiple times but the apple (not being accepted) stays green as we see it. At the end, Chuu bites into it and the apple turns red. This is seen when Yves finally notices Chuu and accept her heart. In the end we see her finally dancing and feeding Yves strawberries. Now we know Yves' fruit is Apple hence the apple being offered. In the end we see Yves feeding Chuu strawberries hence the strawberry being given.
Copycat
[
]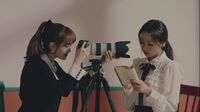 As we see obviously, Chuu admires Yves and copies her. We see this when Chuu tries to learn Yves's dance and wears the same clothes as her.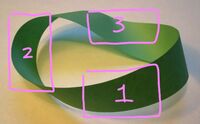 This can be seen on the Mobius Strip as well. The third part of the Mobius Strip, named Eden, is a copycat version of Earth.
HaSeul in the end

[

]
Since Eden is techincally a mirrored version of Earth for yyxy, it is said that each of the yyxy girls are connected to the 1/3 girls. At the end of the M/V for Heart Attack, HaSeul appears, wearing the same outfit from The Carol M/V, with HyunJin and HeeJin. Since Chuu was revealed on December 14, 2017 and HaSeul appeared in The Carol (which was released on December 15, 2016), it would make sense the two could meet each other.[citation needed] After Chuu has eaten her apple, and then her true fruit [strawberry], she is seen lying in the snow. HaSeul then walks in, and wakes Chuu up. It is seen that HaSeul can interact with Chuu, but not the other way around.[citation needed] Chuu then walks off without picking up the apple, as she no longer needs it.[citation needed]
Twinfish's Theory
[
]
Daebak Jjang's Theory
[
]
MobiusChickenStrip's Theory
[
]
Reddit's Theory
[
]
LOONAliens and Akitania's Theory
[
]
Trivia
[
]
In the last scene of the M/V, a penguin and a swan are seen next to each other, possibly signifying their reunion.
References
[
]
[

]